Born in 1958, Roger Kleier is a composer, guitarist, improviser and producer who began playing electric guitar at age thirteen after discovering Captain Beefheart and Jimi Hendrix on the radio airwaves of Los Angeles. He studied composition at North Texas State University and the University of Southern California, and has developed an unique style that draws equally from improvisation, contemporary classical music, and the American guitar traditions of blues, jazz, and rock.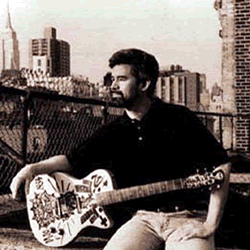 Much of his compositional work involves the development of a broader vocabulary for the electric guitar through the use of extended techniques and creating new works with digital technology.ннннн
Roger has performed and/or recorded with Annie Gosfield, Marc Ribot's Shrek, Elliott Sharp, Fred Frith, Joan Jeanrenaud, Davey Williams, Ikue Mori, Carl Stone, Phill Niblock, Alan Licht,Tom Cora, David Moss, Kato Hideki, Chris Cutler, David Krakauer, Chris Brown, Sim Cain, Jim Pugliese, Zeitgeist, Relache, Agon Orchestra, Kevin Norton, Willie Winant, Samm Bennett, Zeena Parkins, Stan Ridgway and others. Roger has toured extensively throughout the United States, Canada, Europe, and Australia. He currently resides in New York City.